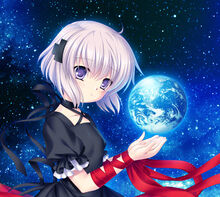 Word of Dawn is the ending theme for the original route of Rewrite Anime, performed by Aoi Tada. Bearing the catalog number KSLA-121 as a CD single, it is composed by Tomohiro Takeshita, arranged by MANYO, and has lyrics written by Kai.
The ending animation is animated by Masayuki Nonaka, storyboarded by Tenshou, and directed by 10GAUGE.
Ad blocker interference detected!
Wikia is a free-to-use site that makes money from advertising. We have a modified experience for viewers using ad blockers

Wikia is not accessible if you've made further modifications. Remove the custom ad blocker rule(s) and the page will load as expected.