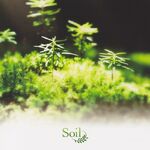 Soil is an arrange album containing arrangements of selected soundtracks from the visual novel Rewrite. The album was included in the limited edition first printing of the PC version of the visual novel.
The album bears the catalog number KSLA-0070.
Track List
Edit
Daisy (ヒナギク, Hinagiku) - Maiko Iuchi arr. Keiji Inai (Imagine)   
Scattered Flowers (散花, Sanka) - Ryou Mizutsuki arr. Nakayama Raiden
Bridal Headdress (綿帽子, Wataboushi) - Soushi Hosoi arr. Shouhei Tsuchiya (Zuntata)
Phobia - Soushi Hosoi arr. Souichirou Sakamoto (Supersweep)
Morning Glory (アサガオ, Asagao) - Maiko Iuchi arr. Manyo (Little Wing)
Exploration - Shinji Orito arr. Maki Kirioka (Procyon Studio)
Border of Illusion ~ Soft Windflower (幻境 〜 ニリンソウ, Genkyou ~ Nirinsou) - Ryou Mizutsuki and Soushi Hosoi arr. Technouchi
Retribution - Shinji Orito arr. Saya Oka
Reply - Shinji Orito arr. Myu
Anthurium (アンスリウム, Ansuriumu) - Ryou Mizutsuki arr. Hideki Sakamoto (Noisycroak)
Ad blocker interference detected!
Wikia is a free-to-use site that makes money from advertising. We have a modified experience for viewers using ad blockers

Wikia is not accessible if you've made further modifications. Remove the custom ad blocker rule(s) and the page will load as expected.