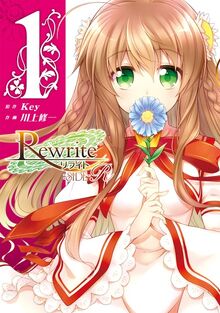 Rewrite Side-R is one of the manga adaptations of the visual novel Rewrite, illustrated by Shuuichi Kawakami. It was serialized in Dengeki Daioh from February 26, 2011 to July 27, 2013, releasing 27 chapters compiled to five tankoubon volumes.
The manga adapted the visual novel's Chihaya Route.
Ad blocker interference detected!
Wikia is a free-to-use site that makes money from advertising. We have a modified experience for viewers using ad blockers

Wikia is not accessible if you've made further modifications. Remove the custom ad blocker rule(s) and the page will load as expected.