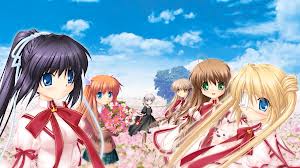 The poll based on preferred routes is currently running at the present, there is no guarantee it will close any time soon, however it can be predicted at the moment that Lucia Konohana's Route will rank high. Unfortunately for the Common Route, it is incredibly likely that it will rank low, because of the lack of votes, admittedly it was not unanticipated and to be expected. Notably Akane Senri's Route is only slightly behind Lucia's route. The subject is located on the home page of Rewrite Wiki. Submit your vote now! 
Note: If you've changed your mind which route you favour the most, its easy to exchange the vote and switch, simply by selecting the particular route and then click on Vote!
1:
2:
3:
4:
5:
6: 
7:
8: 
9:
Ad blocker interference detected!
Wikia is a free-to-use site that makes money from advertising. We have a modified experience for viewers using ad blockers

Wikia is not accessible if you've made further modifications. Remove the custom ad blocker rule(s) and the page will load as expected.