"
Don't wake me. Or else, you'll...
"

–Haruka Asahi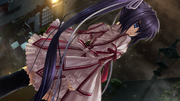 Lucia's Route
is one of the heroine routes in
Rewrite
branching off from the
common route
. It focuses on the character of
Lucia Konohana
, her relationship with
Kotarou
, the story of the cursed Haruka Asahi, and her connections to an organization called
Guardian
.
The scenario was written by Ryukishi07 of 07th Expansion, and the ending song used is Beyond the Darkness. 
Checking out the e-mails of the Occult Club, he found out about "Haruka Asahi's curse," and figures to investigate it.
Lucia's route was the last to be added among the routes, but was the first route finished by the writers.
It is the only route to include a major date scene.
Ad blocker interference detected!
Wikia is a free-to-use site that makes money from advertising. We have a modified experience for viewers using ad blockers

Wikia is not accessible if you've made further modifications. Remove the custom ad blocker rule(s) and the page will load as expected.