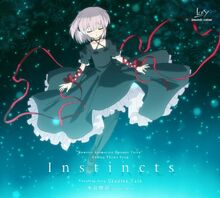 Instincts is a vocal track used as the ending theme for Rewrite 2nd Season's Terra Arc, starting from Episode 17. The song is composed by Donmaru and arranged by Yuuichirou Tsukagoshi of NanosizeMir, and the lyrics are written by Kai. It is performed by Runa Mizutani.
The ending animation is storyboarded by URA AC-Promenade, directed by Daisuke Eguchi, and solo animated by Tadashi Abiru.
眠ることのないあなたが立つ世界は
まだ無垢なままで
もしこの大地に何かを残せるのなら
せめて面影を
空を見上げる そんな簡単なことも
許されず 瞳閉じる
ただ一つだけ見つけて欲しいの
記憶に沈む愛しさを
幾千の果辿り着くあの朝が
救われるように
この歌声届く限り
nemuru koto no nai anata ga tatsu sekai wa
mada muku na mama de
moshi kono daichi ni nanika o nokoseru no nara
semete omokage o
sora o miageru sonna kantan na koto mo
yurusarezu hitomi tojiru
tada hitotsu dake mitsuketehoshii no
kioku ni shizumu itoshisa o
ikusen no hate tadoritsuku ano asa ga
sukuwareru you ni
kono utagoe todoku kagiri
Reference
Edit
Ad blocker interference detected!
Wikia is a free-to-use site that makes money from advertising. We have a modified experience for viewers using ad blockers

Wikia is not accessible if you've made further modifications. Remove the custom ad blocker rule(s) and the page will load as expected.