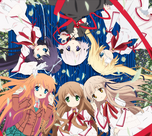 Innocence Eye is a vocal track used as insert song in Episode 15 of Rewrite 2nd Season. It is based on Maiko Iuchi's Daisy, Kagari's theme, from Rewrite Original Soundtrack. The track is arranged by Donmaru, and the lyrics written by Ryou Mizutsuki. Runa Mizutani of NanosizeMir provided the vocals.
The track was later released in Rewrite Animation Original Soundtrack.
ふわり不可思議 拡がる調和(Harmony)
悪戯な儚さと 束の間の夢
くるくる廻る 月影二つ
寄せては返すよう委ねて ささやかなサイクル
目にわ見えない力で 惹かれる感覚
微かに繋がるイメージ 浮かんでは消えて行く
声にならない言葉が シンクロする感覚
ねえ、どんなRhythmも揺らいで行く
そう…貴方は誰?
心ともなく 満ちゆく幻想(Fantasy)
悪戯な微笑みに 思いあぐねる
くるくる廻る 月影二つ
止め処なく溢れる音に 鮮やかに煌めくの
伴う月灯り(あかり)に戸惑い
ゆらゆらと舞い巡り 奏であう幻
優しく愁う瞳に 惹かれる感覚
僅かに繋がるイメージ 想いごと連れて行く
無垢で自由な言葉が 躊躇いを映し出す
無邪気に囁く世界の果て
そう…夜を穿つの
Fuwari fukashigi hirogaru hāmonī
Itazurana hakana sa to tsuka no ma no yume
Kurukuru mawaru tsukikage futatsu
Yosete wa kaesuyou yudanete sasayaka na saikuru
Me ni wa mienai chikara de hikareru kankaku
Kasukani tsunagaru imēji ukande wa kieteyuku
Koe ni naranai kotoba ga shinkuro suru kankaku
Nee, donna rizumu mo yuraide yuku
Sou… anata wa dare?
Kokoro tomonaku michi yuku fantajī
Itazurana hohoemi ni omoi aguneru
Kurukuru mawaru tsukikage futatsu
Tomedonaku afureru oto ni azayaka kirameku no
Tomonau akari ni tomadoi
Yurayura to mai meguri kanadeau maboroshi
Yasashiku ureu hitomi ni hikareru kankaku
Wazuka ni tsunagaru imēji omoi goto tsureteiku
Muku de jiyuuna kotoba ga tamerai wo utsushidasu
Mujaki ni sasayaku sekai no hate
Sou… yoru wo ugatsu no
The harmony spreads gently and mysteriously
With the mischievous transience, in the ephemeral dream
Spinning and twirling round, the two shadows beneath the moonlight
Devoting themselves into a modest cycle as they come and go
The sensation of being drawn by an invisible force
The images faintly tied together, they appear and soon disappear
The sensation of unspoken words synchronizing
See, they're swaying in any rhythm...
Yes... Who are you?
The fantasy emerges without any awareness
And the mischievous smile brings wonderment
Spinning and twirling round, the two shadows beneath the moonlight
They're sparkling brilliantly along with the endless overflowing sound
Mystefied by the accompanying moonlight
The illusions sway, dance and circle in harmony
The sensation of being drawn by the gentle sorrowful eyes
The images barely tied together, they bring thoughts with them
The pure and free wrods reflect the hesitation
They were being innocently whispered to the ends of the world
Yes... Passing through the night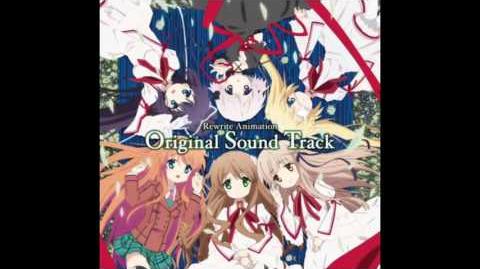 Ad blocker interference detected!
Wikia is a free-to-use site that makes money from advertising. We have a modified experience for viewers using ad blockers

Wikia is not accessible if you've made further modifications. Remove the custom ad blocker rule(s) and the page will load as expected.