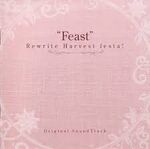 Feast is a soundtrack album published by Key Sounds Label containing soundtracks used for the Rewrite Harvest festa! fandisc. It was released on July 27, 2012, bearing the catalog number KSLA-0081.
Track List
Edit
Harvest - Maiko Iuchi; lyrics by Yuuto Tonokawa, performed by Aoi Tada
irrigated land - Yuuichirou Tsukagoshi
Germination (萌芽, Houga) - Shinji Orito
Moonbright[1] (ムーンブライト, Mūnburaito) - Shinji Orito arr. Ryou Mizutsuki
Quaesitor - Soushi Hosoi
Fight for nowhere - Shinji Orito
winners! - Shinji Orito
Redemptor - Soushi Hosoi
Rinse Love (愛を濯ぐ, Ai wo Susugu) - Maiko Iuchi arr. Ryou Mizutsuki
Evening Dew (夜露, Yotsuyu) - Shinji Orito arr. Manabu Miwa
Modest Beginning (ささやかなはじまり, Sasayaka na Hajimari) - NanosizeMir[2]
irrigated land ~echo~ - Yuuichirou Tsukagoshi
Harvest Game size ver
Modest Beginning Game size ver (ささやかなはじまり Game size ver)
Footnotes
Edit
↑ Piano arrangement of Sunbright (from Rewrite Original Soundtrack)
↑

duo consisting of composer Yuuchirou Tsukagoshi and singer Runa Mizutani
Ad blocker interference detected!
Wikia is a free-to-use site that makes money from advertising. We have a modified experience for viewers using ad blockers

Wikia is not accessible if you've made further modifications. Remove the custom ad blocker rule(s) and the page will load as expected.